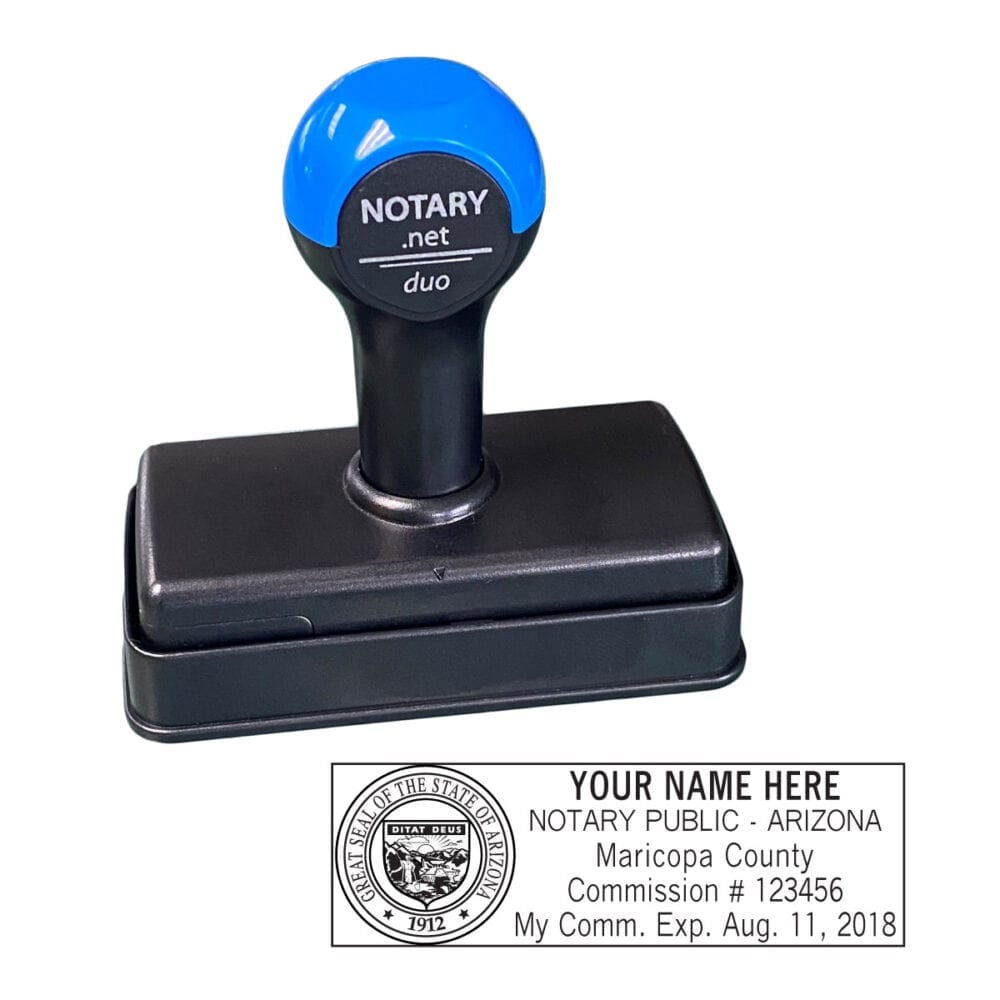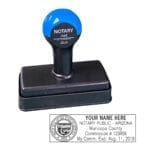 Arizona Traditional Notary Stamp
$19.95
This stamp does not come with ink. You will need a separate, water-based ink pad. You can purchase one here: Stamp Ink Pad
41-321. Obtaining a seal; violation; classification
A. A vendor of notary seals may not provide an official seal to a person unless the person presents a photocopy of the person's notarial commission. The vendor shall retain the photocopy for four years.
Description
Additional information
Reviews (0)
Description
Members only prices, without having to pay for membership fees!
The Shiny Duo traditional-style notary stamp is a cost-effective way to return to the old way of stamping with style of modern stampers. This stamp includes laser-engraving for highly detailed impressions. The hand-stamp makes it easy to get precise placement on your document every time.
This stamp does not include ink. You need to purchase a separate ink pad.
Additional information
| | |
| --- | --- |
| Weight | 5 oz |
| Dimensions | 2.88 × 2.75 × 1.88 in |
| Stamp Type | Brother 2260, Printy Model 4913, PSI 2264, PSI 2264 Slim |
| Stamp Color | Arctic White, Eco Black, Apple Green, Black, Blue, Eco Gray, Flame Red, Fuchsia, Green, Light Pink, Lilac, Mango, Mint, Sky Blue, Violet, White |
You may also like…
Alabama Notary Journals, Alaska Notary Journals, Arizona Notary Journals, Arkansas Notary Journals, California Notary Journals, Colorado Notary Journals, Connecticut Notary Journals, Delaware Notary Journals, Florida Notary Journals, Georgia Notary Journals, Hawaii Notary Journals, Idaho Notary Journals, Illinois Notary Journals, Indiana Notary Journals, Iowa Notary Journals, Kansas Notary Journals, Kentucky Notary Journals, Louisiana Notary Journals, Maine Notary Journals, Maryland Notary Journals, Massachusetts Notary Journals, Michigan Notary Journals, Minnesota Notary Journals, Mississippi Notary Journals, Missouri Notary Journals, Montana Notary Journals, Nebraska Notary Journals, Nevada Notary Journals, New Hampshire Notary Journals, New Jersey Notary Journals, New Mexico Notary Journals, New York Notary Journals, North Carolina Notary Journals, North Dakota Notary Journals, Ohio Notary Journals, Oklahoma Notary Journals, Oregon Notary Journals, Pennsylvania Notary Journals, Rhode Island Notary Journals, South Carolina Notary Journals, South Dakota Notary Journals, Tennessee Notary Journals, Texas Notary Journals, Utah Notary Journals, Vermont Notary Journals, Washington Notary Journals, West Virginia Notary Journals, Wisconsin Notary Journals, Wyoming Notary Journals, Notary Journals, Alabama, Alaska, Arizona, Arkansas, California, Colorado, Connecticut, Delaware, Florida, Georgia, Hawaii, Idaho, Illinois, Indiana, Iowa, Kansas, Kentucky, LTBB, Maine, Maryland, Massachusetts, Michigan, Minnesota, Mississippi, Missouri, Montana, Nebraska, Nevada, New Hampshire, New Jersey, New Mexico, New York, North Carolina, North Dakota, Ohio, Oklahoma, Oregon, Pennsylvania, Rhode Island, South Carolina, South Dakota, Tennessee, Texas, Utah, Vermont, Virginia, Washington, West Virginia, Wisconsin, Wyoming, District of Columbia, Louisiana, Washington D.C.

Modern Journal of Notarial Events

$

22.95 –

$

28.95