Become a Tennessee Notary
New and Renewing Tennessee Notary
Save money by ordering our custom supply package.  Add-on just want you want and/or need.  This package starts at $56!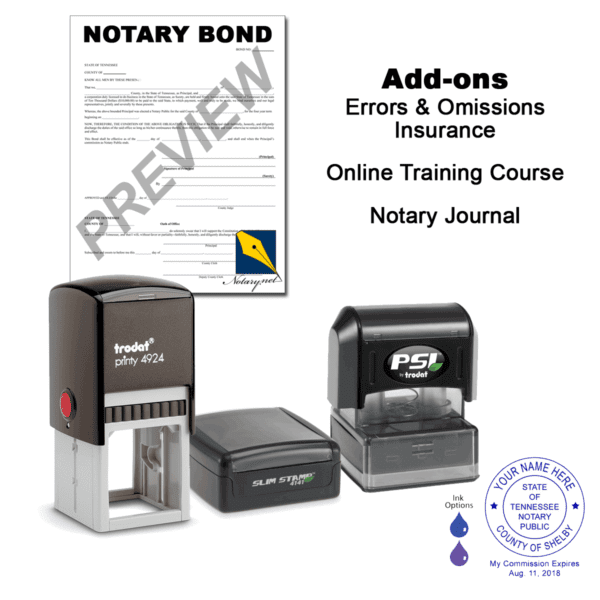 Includes:
Add-ons:
Notary Errors and Omissions Insurance

Video Instruction

We use the power of the internet to bring an instructor right into your computer. The instructor will teach and reinforce the materials to help you retain and connect with it. We even provide you detailed instructions on how to obtain your commission! The video can be accessed at any time, from any computer, tablet or phone with internet access. Plus, you can re-watch the videos as many times as you like.

Immediate Access - No Delays!


Because we value your time, upon receipt of your payment, you will IMMEDIATELY be granted with access to your notary course. You can start your Tennessee notary training in just a few minutes!

Social Interaction

Your course includes a social forum to ask questions and receive responses from your instructor and other students in a classroom-style discussion.

Instant Access to Your Proof of Completion Certificate

After completing the course, you will have access to a Proof of Completion Certificate. Display it proudly to show you take your notary commission seriously and that you are well-trained in the laws and procedures of Tennessee notaries public.
How to Become a Notary Public in Tennessee
Step by Step Instructions
Complete the Online Tennessee Notary Training Course (not required)
Fill out application completely
This application must be signed under oath in the presence of a notary public and submitted to the County Clerk at least 30 days prior to the meeting of the county legislative body at which it is to be considered. Once elected, you must then be commissioned by the Governor. If elected, you will be required to post a bond in the amount of Ten Thousand Dollars ($10,000). The bond must be filed in the office of the County Clerk, who will accept the required fees and administer the oath of office. You are not authorized to act as a notary public until you have received your commission from the Governor, filed your bond, and taken the oath of office. If you move your residence or your principal place of business out of this county, you are required by law to notify the secretary of state.
You will have to answer the following questions Yes or No
Have you ever been convicted of offering or giving a bribe, larceny, or any other offense declared infamous by law?
If the answer to question 1 was YES, has your citizenship been restored?
Is there an unpaid judgment against you for money received in an official capacity and due to the United States, to Tennessee or any Tennessee county, or are you a defaulter to the treasury?
Are you a soldier, seaman, marine, or airman in the regular Army, Navy, or Air Force of the United States, a member of the United States Congress, or a person holding any office of profit or trust under any foreign power, other state or the United States?