Become a Pennsylvania Notary
New and Renewing Pennsylvania Notary
Save money by ordering our custom supply package.  Add-on just want you want and/or need.  This package starts at $49!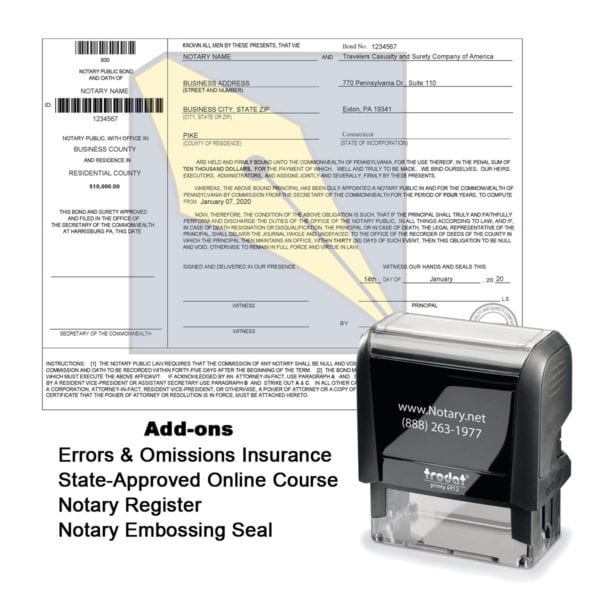 Includes:
Add-ons:
Pennsylvania Notary Online Course Features:
Immediate Access! IMMEDIATELY access your notary course. You can start your Pennsylvania notary training in just a few minutes! Access anytime, anywhere. 
Instant Access to Your Proof of Completion Certificate! After completing the course, you will have access to a Proof of Completion Certificate. Display it proudly to show you take your notary commission seriously and that you are well-trained in the laws and procedures of Pennsylvania notaries public.
Online Video Instruction! Everything you need to know on how to become a notary. Start and stop at your leisure!

How to Become a Notary Public in Pennsylvania
Step by Step Instructions
Take the mandatory 3 hour education course

Fill out the Pennsylvania Notary Application


Upload proof of having completed a three hour approved mandatory notary education course within six months preceding application if required.

Take the State Exam
First-time applicants and applicants that have allowed the commission to expire will be required to take a state exam through the exam vendor Pearson VUE. The state will give you instructions for your exam after receipt of your application.
Wait for Commission Certificate

You should receive your commission certificate within 4-6 weeks.
Purchase and File Bond With the County

Within 45 days after the date of appointment, a notary public is required to execute a $10,000 bond. Pennsylvania Notary Bond

Register Signature with County

The notary applicant must register his/her signature with the prothonotary of the county wherein the notary public maintains an office within 45 days after appointment or reappointment. If the recording and oath requirements are not met within the 45 day period, the commission becomes null and void. Applicants must then begin the process again by submitting a new application and the $42.00 application fee for appointment to a new commission and a new appointment date.

Order/Obtain Notary Seal and Register

If you ordered a supply package, email us your commission information to: orders@notary.net or fax to: 877.349.6590. Otherwise, order your Pennsylvania notary supplies now.