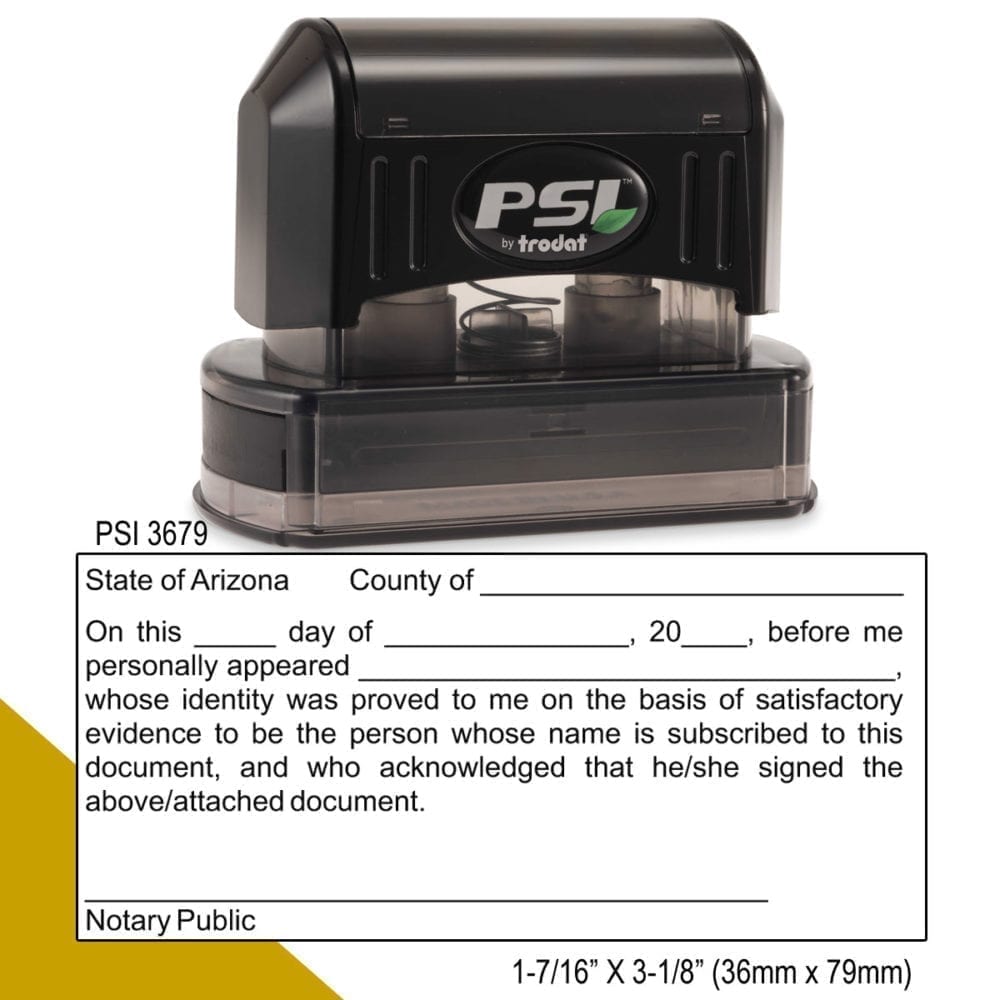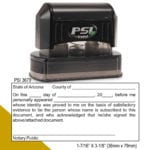 Arizona Notary Acknowledgment Stamp
$22.95
Description
Additional information
Reviews (0)
Description
Our Arizona Notary Acknowledgment Stamp is the perfect way to add the required wording to a document to make it Arizona compliant.  Clients love the stamp because it does not add additional pages to the document, which could potentially increase recording fees.  Notaries love the stamp because it is convenient and can do the work of several thousand sheets of loose certificates.
You can save time by pre-printing your county name for an additional fee.
PSI stamps are made from recycled plastic (50%).  They use low emissions manufacturing practices.  They last twice as long as a traditional self inker.  They feature laser print quality impression.  They are re-inkable indefinitely.
PSI 3679 impression area: 1-7/16″ x 3-1/8″
Additional information
| | |
| --- | --- |
| Weight | 6 oz |
| Dimensions | 4.38 × 2.88 × 2.5 in |
You may also like…
Alabama Notary Journals, Alaska Notary Journals, Arizona Notary Journals, Arkansas Notary Journals, California Notary Journals, Colorado Notary Journals, Connecticut Notary Journals, Delaware Notary Journals, Florida Notary Journals, Georgia Notary Journals, Hawaii Notary Journals, Idaho Notary Journals, Illinois Notary Journals, Indiana Notary Journals, Iowa Notary Journals, Kansas Notary Journals, Kentucky Notary Journals, Louisiana Notary Journals, Maine Notary Journals, Maryland Notary Journals, Massachusetts Notary Journals, Michigan Notary Journals, Minnesota Notary Journals, Mississippi Notary Journals, Missouri Notary Journals, Montana Notary Journals, Nebraska Notary Journals, Nevada Notary Journals, New Hampshire Notary Journals, New Jersey Notary Journals, New Mexico Notary Journals, New York Notary Journals, North Carolina Notary Journals, North Dakota Notary Journals, Ohio Notary Journals, Oklahoma Notary Journals, Oregon Notary Journals, Pennsylvania Notary Journals, Rhode Island Notary Journals, South Carolina Notary Journals, South Dakota Notary Journals, Tennessee Notary Journals, Texas Notary Journals, Utah Notary Journals, Vermont Notary Journals, Virginia Notary Journals, Washington Notary Journals, West Virginia Notary Journals, Wisconsin Notary Journals, Wyoming Notary Journals, Notary Journals, Alabama, Alaska, Arizona, Arkansas, California, Colorado, Connecticut, Delaware, Florida, Georgia, Hawaii, Idaho, Illinois, Indiana, Iowa, Kansas, Kentucky, LTBB, Maine, Maryland, Massachusetts, Michigan, Minnesota, Mississippi, Missouri, Montana, Nebraska, Nevada, New Hampshire, New Jersey, New Mexico, New York, North Carolina, North Dakota, Ohio, Oklahoma, Oregon, Pennsylvania, Rhode Island, South Carolina, South Dakota, Tennessee, Texas, Utah, Vermont, Virginia, Washington, West Virginia, Wisconsin, Wyoming, District of Columbia, Louisiana, Washington D.C.

Notary Records Journal

$

22.95 –

$

28.95