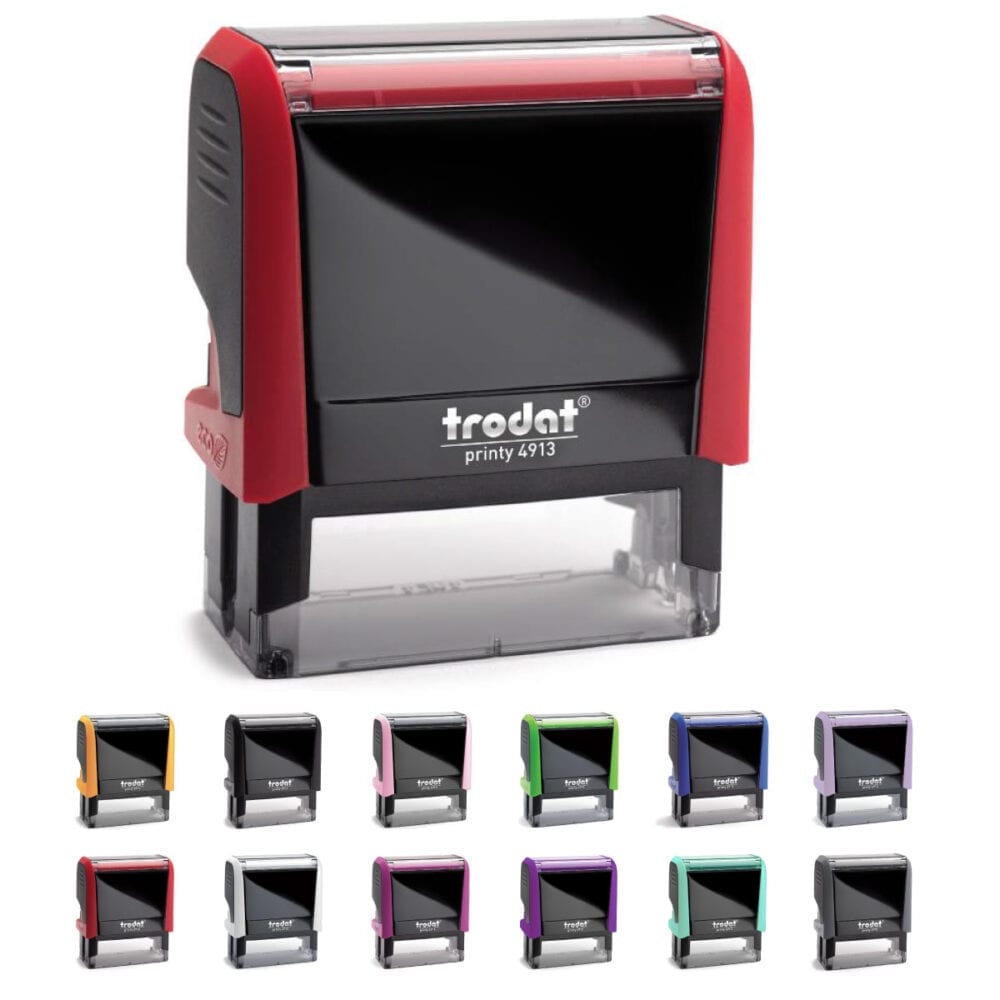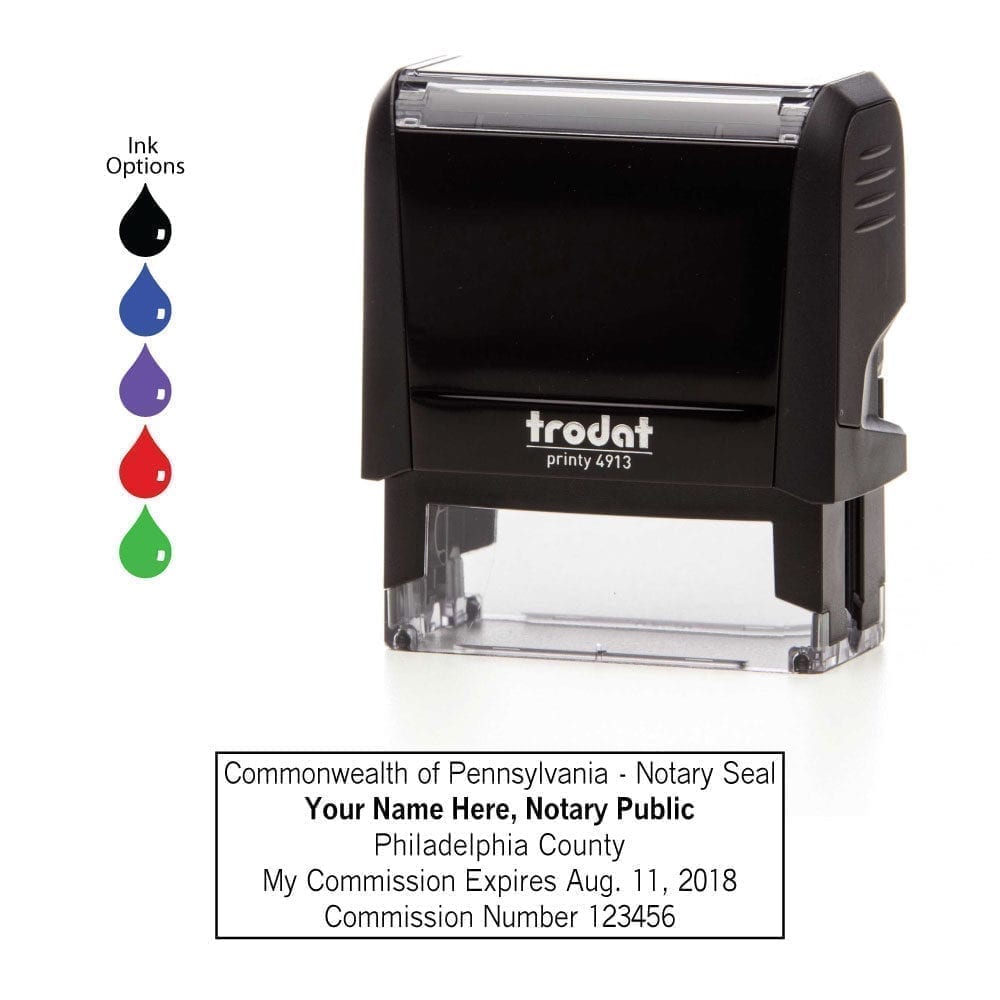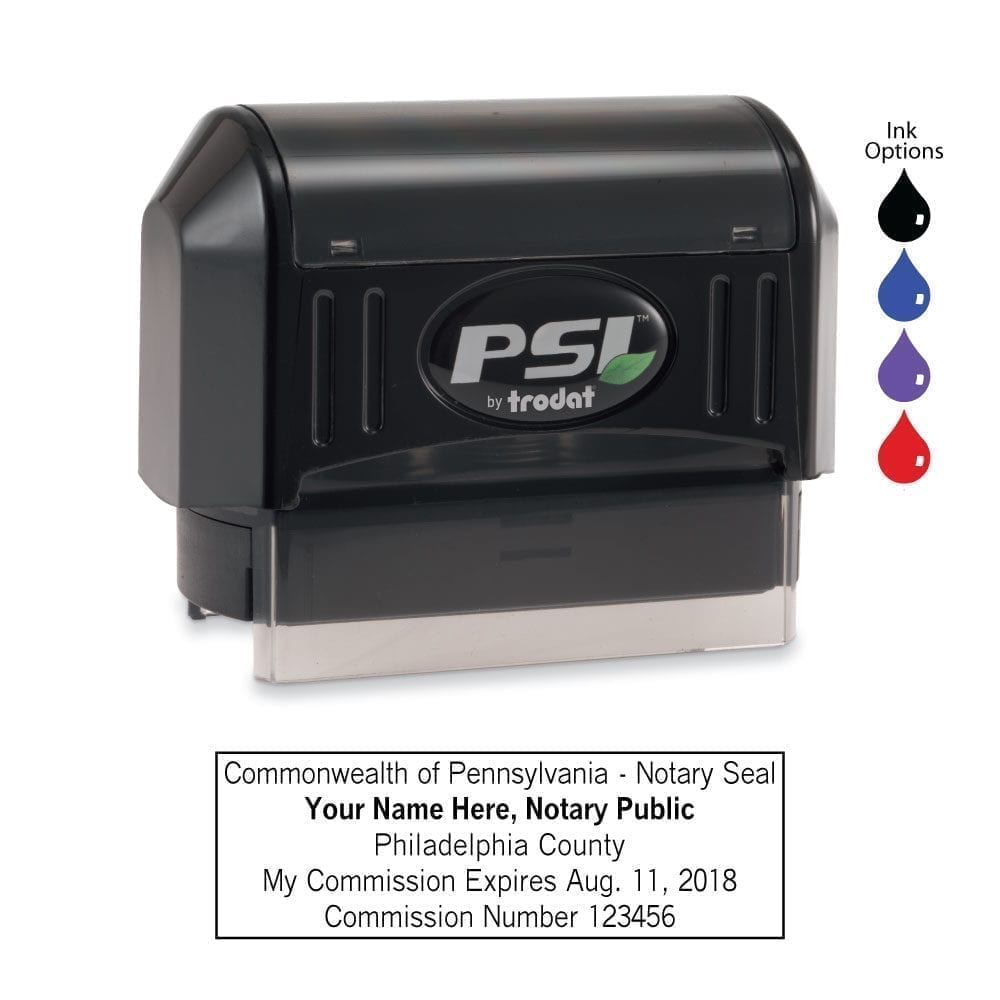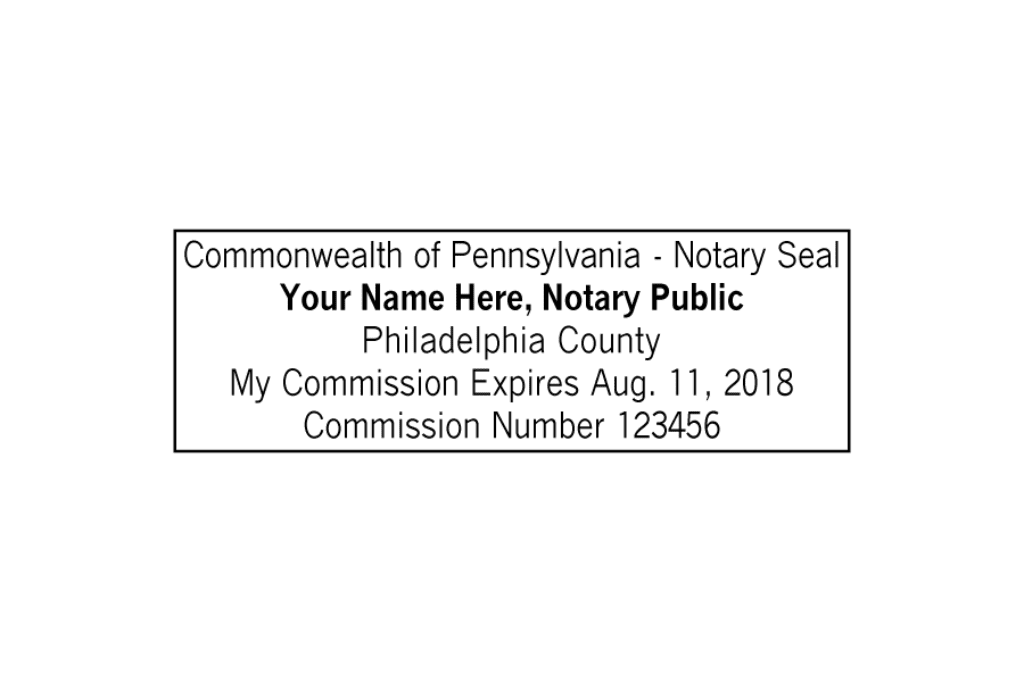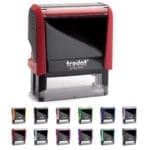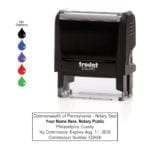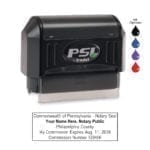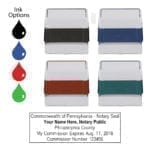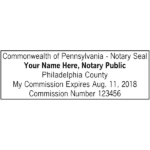 Pennsylvania Notary Stamp
$15.95 – $28.95
Customize your Pennsylvania notary stamp and choose which stamp works best for you. 
Description
Additional information
Reviews (2)
Description
Pennsylvania Notary Stamp Requirements
A Pennsylvania notary stamp must be an inked rubber stamp and must clearly show the following:
The words "Commonwealth of Pennsylvania,"
The words "Notary Seal,"
The notaries name as it appears on their commission
The words "Notary Public,"
The name of the county in which the notary maintains an office
The notary public's commission expiration date.
The seal must have a maximum height of one inch and width of three and one-half inches, with a plain border.
Using an embosser is optional, and does not replace the rubber stamp.
Source: Pennsylvania Revised Uniform Law On Notarial Acts (RULONA) § 317. Official stamp.
Pennsylvania Notary Stamp Information
Our custom Pennsylvania notary stamp ordering system makes it easy for you to navigate and choose which Pennsylvania notary seal or stamp works best for you.  We have several different options and price ranges to choose from:
Brother stamps are the industry standard.  They feature superior impression quality at 600 dpi and can last up to 50,000 impressions with proper re-inking.  Brother notary stamps use oil-based inks.
Trodat Printy 4.0 stamps are climate-neutral as standard.  CO2 is saved during manufacture.  The residual, unavoidable CO2  footprint is compensated by investment in Gold Standard climate protection projects recommended by the WWF®.  Two special grip zones allow a cartridge to be exchanged without touching the ink reservoir—for guaranteed clean fingers.  The Original Printy 4.0 is one of the world's smallest and lightest self-inking stamps. Soft-touch elements guarantee a pleasant, secure stamp grip.  The Original Printy 4.0's crystal-clear positioning window also enables accurately placed imprints. The transparent bottom edges allow for precise alignment.
PSI stamps are made from recycled plastic (50%).  They use low emissions manufacturing practices.  They last twice as long as a traditional self inker.  They feature laser print quality impression.  They are re-inkable indefinitely.
Trodat 4913 impression area: 7/8″ x 2-3/8″
PSI Slim 2264 & PSI 2264 impression area: 7/8″ x 2-1/2″
Brother 2260 impression area: 7/8″ x 2-3/8″
Additional information
| | |
| --- | --- |
| Weight | 4 oz |
| Dimensions | 2 × 3.5 × 1.5 in |
| Stamp Type | Brother 2260, Printy Model 4913, PSI 2264, PSI 2264 Slim |
| Stamp Color | Arctic White, Eco Black, Apple Green, Black, Blue, Eco Gray, Flame Red, Fuchsia, Green, Light Pink, Lilac, Mango, Mint, Red, Sky Blue, Violet, White |
You may also like…
Alabama Notary Journals, Alaska Notary Journals, Arizona Notary Journals, Arkansas Notary Journals, California Notary Journals, Colorado Notary Journals, Connecticut Notary Journals, Delaware Notary Journals, Florida Notary Journals, Georgia Notary Journals, Hawaii Notary Journals, Idaho Notary Journals, Illinois Notary Journals, Indiana Notary Journals, Iowa Notary Journals, Kansas Notary Journals, Kentucky Notary Journals, Louisiana Notary Journals, Maine Notary Journals, Maryland Notary Journals, Massachusetts Notary Journals, Michigan Notary Journals, Minnesota Notary Journals, Mississippi Notary Journals, Missouri Notary Journals, Montana Notary Journals, Nebraska Notary Journals, Nevada Notary Journals, New Hampshire Notary Journals, New Jersey Notary Journals, New Mexico Notary Journals, New York Notary Journals, North Carolina Notary Journals, North Dakota Notary Journals, Ohio Notary Journals, Oklahoma Notary Journals, Oregon Notary Journals, Pennsylvania Notary Journals, Rhode Island Notary Journals, South Carolina Notary Journals, South Dakota Notary Journals, Tennessee Notary Journals, Texas Notary Journals, Utah Notary Journals, Vermont Notary Journals, Virginia Notary Journals, Washington Notary Journals, West Virginia Notary Journals, Wisconsin Notary Journals, Wyoming Notary Journals, Notary Journals, Alabama, Alaska, Arizona, Arkansas, California, Colorado, Connecticut, Delaware, Florida, Georgia, Hawaii, Idaho, Illinois, Indiana, Iowa, Kansas, Kentucky, LTBB, Maine, Maryland, Massachusetts, Michigan, Minnesota, Mississippi, Missouri, Montana, Nebraska, Nevada, New Hampshire, New Jersey, New Mexico, New York, North Carolina, North Dakota, Ohio, Oklahoma, Oregon, Pennsylvania, Rhode Island, South Carolina, South Dakota, Tennessee, Texas, Utah, Vermont, Virginia, Washington, West Virginia, Wisconsin, Wyoming, District of Columbia, Louisiana, Washington D.C.

Notary Records Journal

$

22.95 –

$

28.95