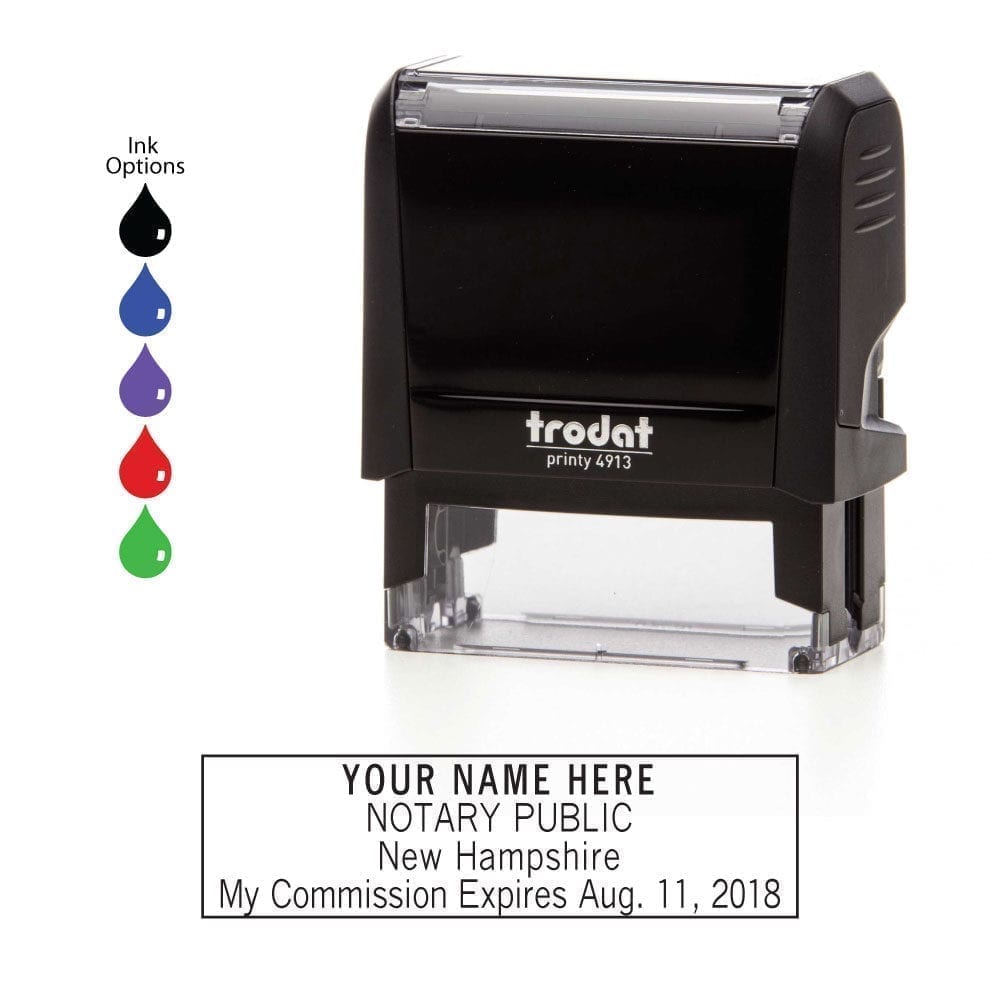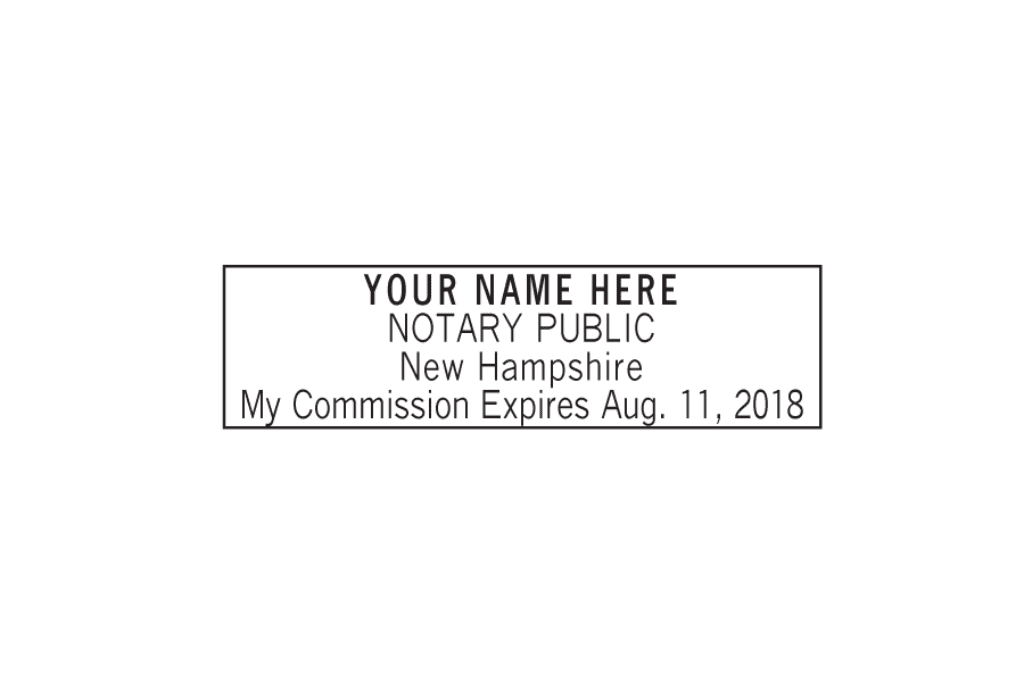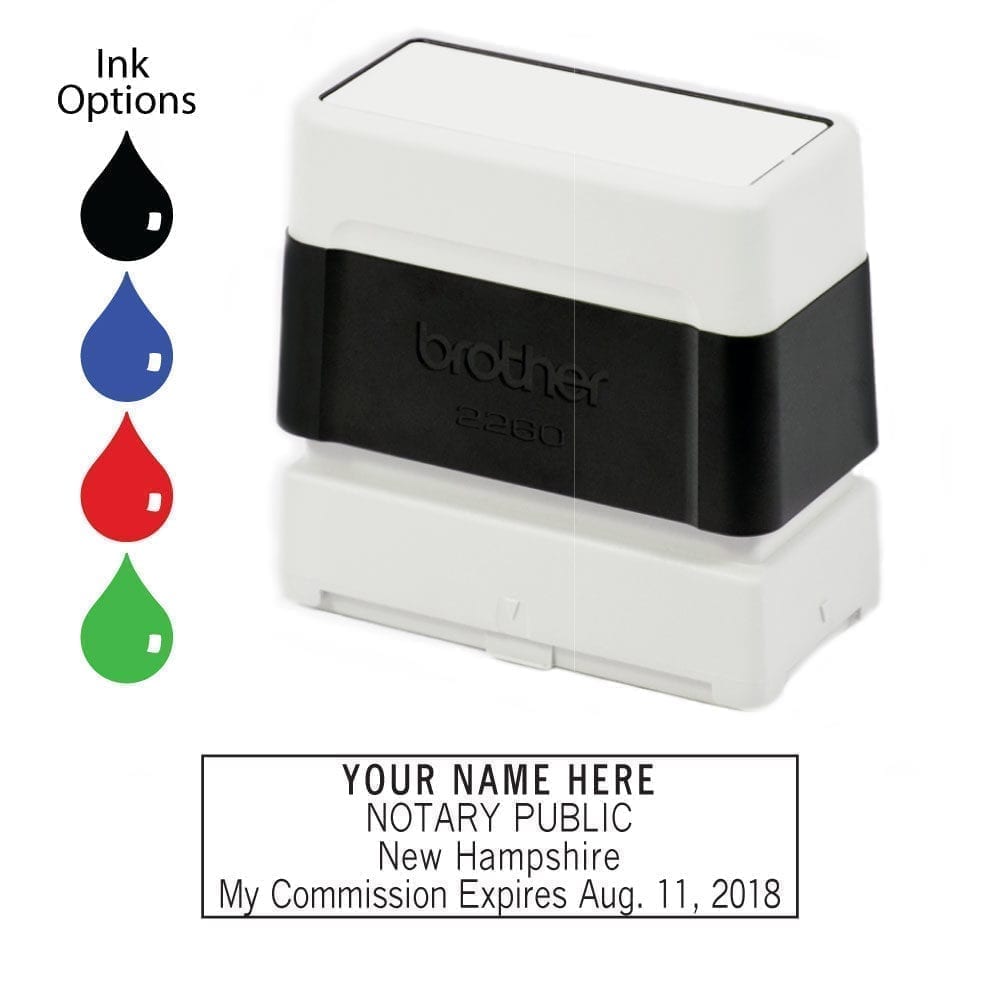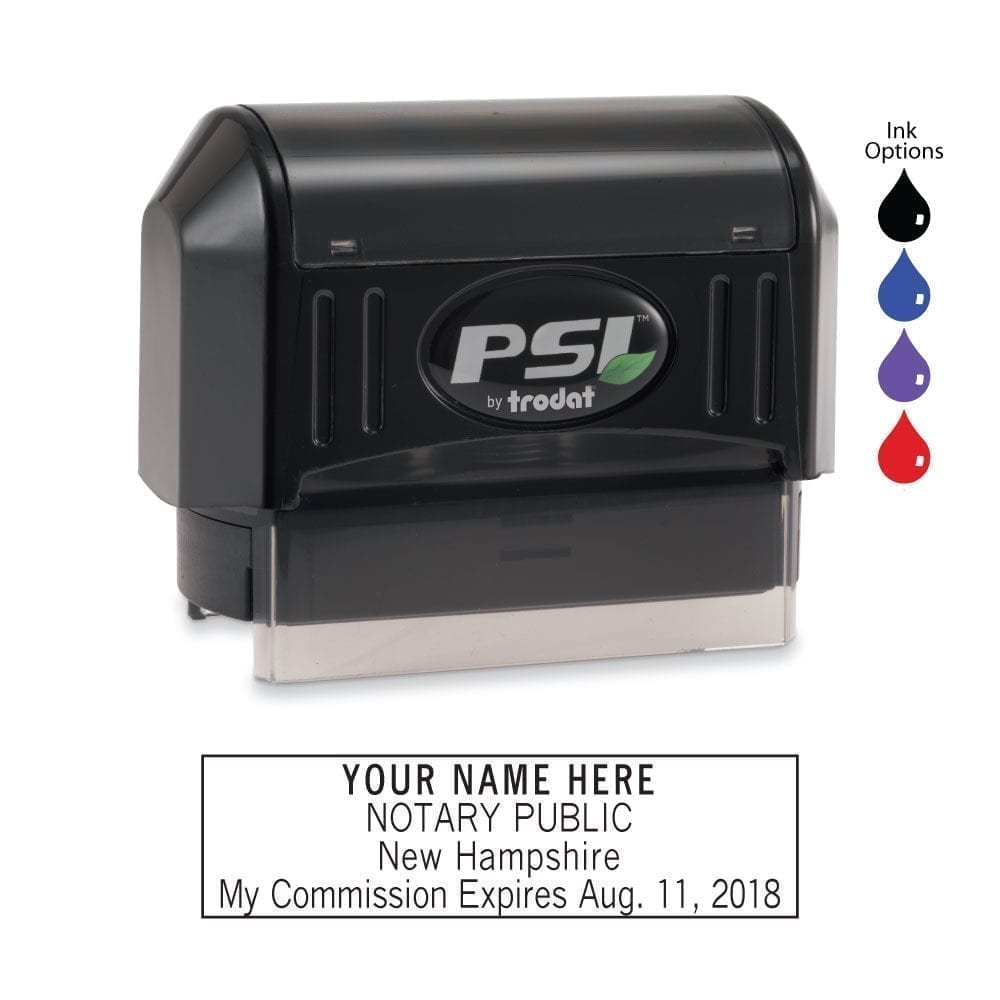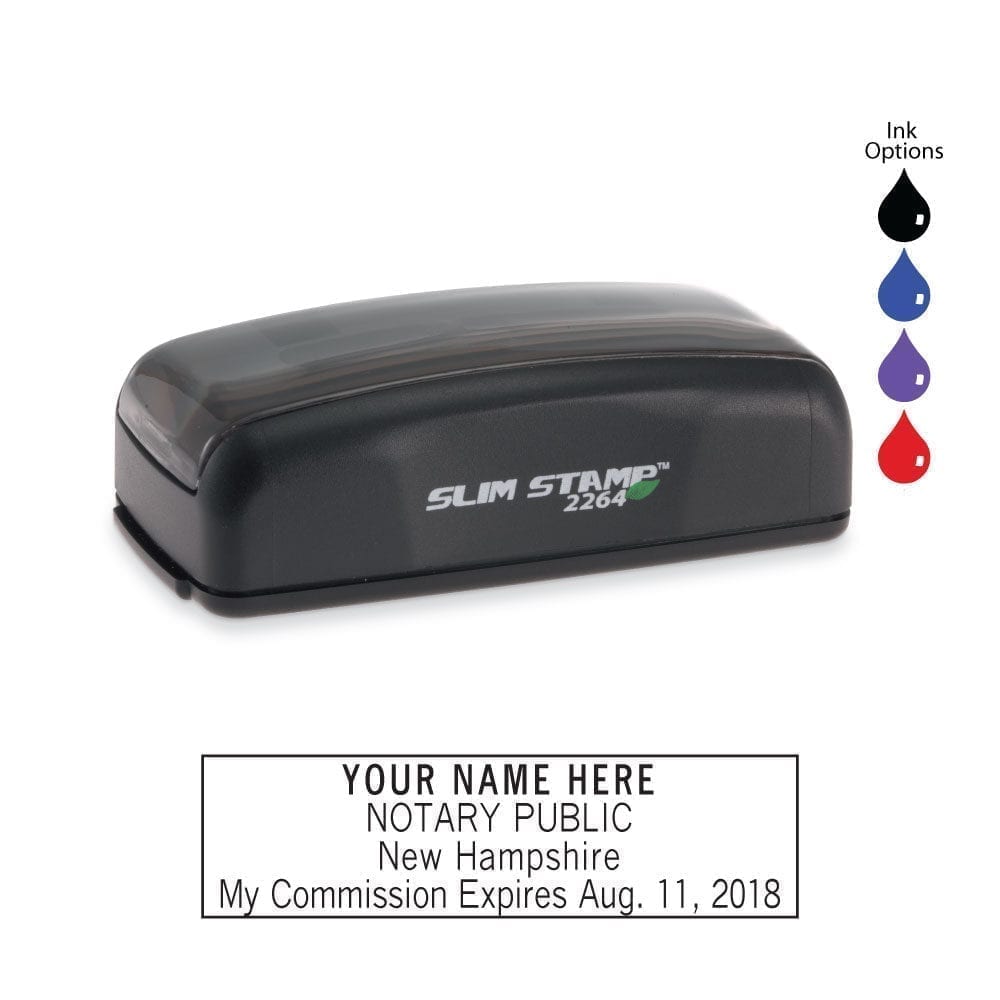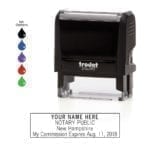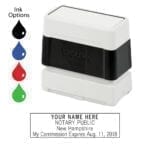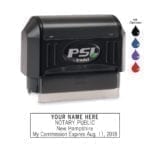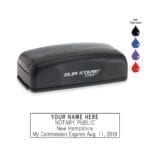 New Hampshire Notary Stamp
$18.00 – $28.95
Choose your desired New Hampshire notary stamp type below. Start by choosing the stamp type, then stamp color, then ink color. Not all notary stamps offer all options.
Description
Additional information
Reviews (0)
Description
New Hampshire Notary Stamp Requirements
Every new and renewing New Hampshire notary public must have an official New Hampshire notary stamp.  The notary stamp is universal since it has all the required elements and it is also photographically reproducible. 
The official seal or legible imprint of an official rubber stamp are prima facie evidence that the person holds the title of Notary Public. If the notary uses an official rubber stamp rather than an official seal, the legible imprint of the stamp must contain the name of the notary, the words "Notary Public" and "New Hampshire" and the expiration date of the Notary Public's commission.
Source: Notary Public and Justice of the Peace manual
New Hampshire Notary Stamp Types
We offer several notary stamp options. Customize your order to suit your needs.
Brother stamps are in a league of their own, featuring superior quality impressions at 600 dpi and up to 50,000 impressions with proper re-inking.  Brother notary stamps use oil-based inks. The Brother 2260 Elite is, in our opinion, the best notary stamp.
The Trodat Printy 4913 New Hampshire Notary Stamp features a see-through base and replaceable ink cartridge, and comes in over a dozen different colors. Features include:
A clear base so you can see exactly where you are stamping
A refillable ink cartridge, allowing you to add thousands more impressions to your stamp
A replaceable ink cartridge, allowing you to change ink color by changing cartridges
Water-based ink, resulting in very little bleed-through
100% compatible with the Ideal series of stamps
PSI stamps are made from 50% recycled plastic. Above all, our PSI stamps feature laser print quality impressions at 300 dpi, and last twice as long as a traditional self-inking stamp.
Trodat 4913 impression area: 7/8″ x 2-3/8″
PSI Slim 2264 & PSI 2264 impression area: 7/8″ x 2-1/2″
Brother 2260 impression area: 7/8″ x 2-3/8″
Additional information
| | |
| --- | --- |
| Weight | 4 oz |
| Dimensions | 2.88 × 2.75 × 1.88 in |
| Stamp Type | Brother 2260, Printy Model 4913, PSI 2264, PSI 2264 Slim |
| Stamp Color | Arctic White, Eco Black, Apple Green, Black, Blue, Eco Gray, Flame Red, Fuchsia, Green, Light Pink, Lilac, Mango, Mint, Red, Sky Blue, Violet, White |
You may also like…
Alabama Notary Journals, Alaska Notary Journals, Arizona Notary Journals, Arkansas Notary Journals, California Notary Journals, Colorado Notary Journals, Connecticut Notary Journals, Delaware Notary Journals, Florida Notary Journals, Georgia Notary Journals, Hawaii Notary Journals, Idaho Notary Journals, Illinois Notary Journals, Indiana Notary Journals, Iowa Notary Journals, Kansas Notary Journals, Kentucky Notary Journals, Louisiana Notary Journals, Maine Notary Journals, Maryland Notary Journals, Massachusetts Notary Journals, Michigan Notary Journals, Minnesota Notary Journals, Mississippi Notary Journals, Missouri Notary Journals, Montana Notary Journals, Nebraska Notary Journals, Nevada Notary Journals, New Hampshire Notary Journals, New Jersey Notary Journals, New Mexico Notary Journals, New York Notary Journals, North Carolina Notary Journals, North Dakota Notary Journals, Ohio Notary Journals, Oklahoma Notary Journals, Oregon Notary Journals, Pennsylvania Notary Journals, Rhode Island Notary Journals, South Carolina Notary Journals, South Dakota Notary Journals, Tennessee Notary Journals, Texas Notary Journals, Utah Notary Journals, Vermont Notary Journals, Virginia Notary Journals, Washington Notary Journals, West Virginia Notary Journals, Wisconsin Notary Journals, Wyoming Notary Journals, Notary Journals, Alabama, Alaska, Arizona, Arkansas, California, Colorado, Connecticut, Delaware, Florida, Georgia, Hawaii, Idaho, Illinois, Indiana, Iowa, Kansas, Kentucky, LTBB, Maine, Maryland, Massachusetts, Michigan, Minnesota, Mississippi, Missouri, Montana, Nebraska, Nevada, New Hampshire, New Jersey, New Mexico, New York, North Carolina, North Dakota, Ohio, Oklahoma, Oregon, Pennsylvania, Rhode Island, South Carolina, South Dakota, Tennessee, Texas, Utah, Vermont, Virginia, Washington, West Virginia, Wisconsin, Wyoming, District of Columbia, Louisiana, Washington D.C.

Notary Records Journal

$

22.95 –

$

28.95