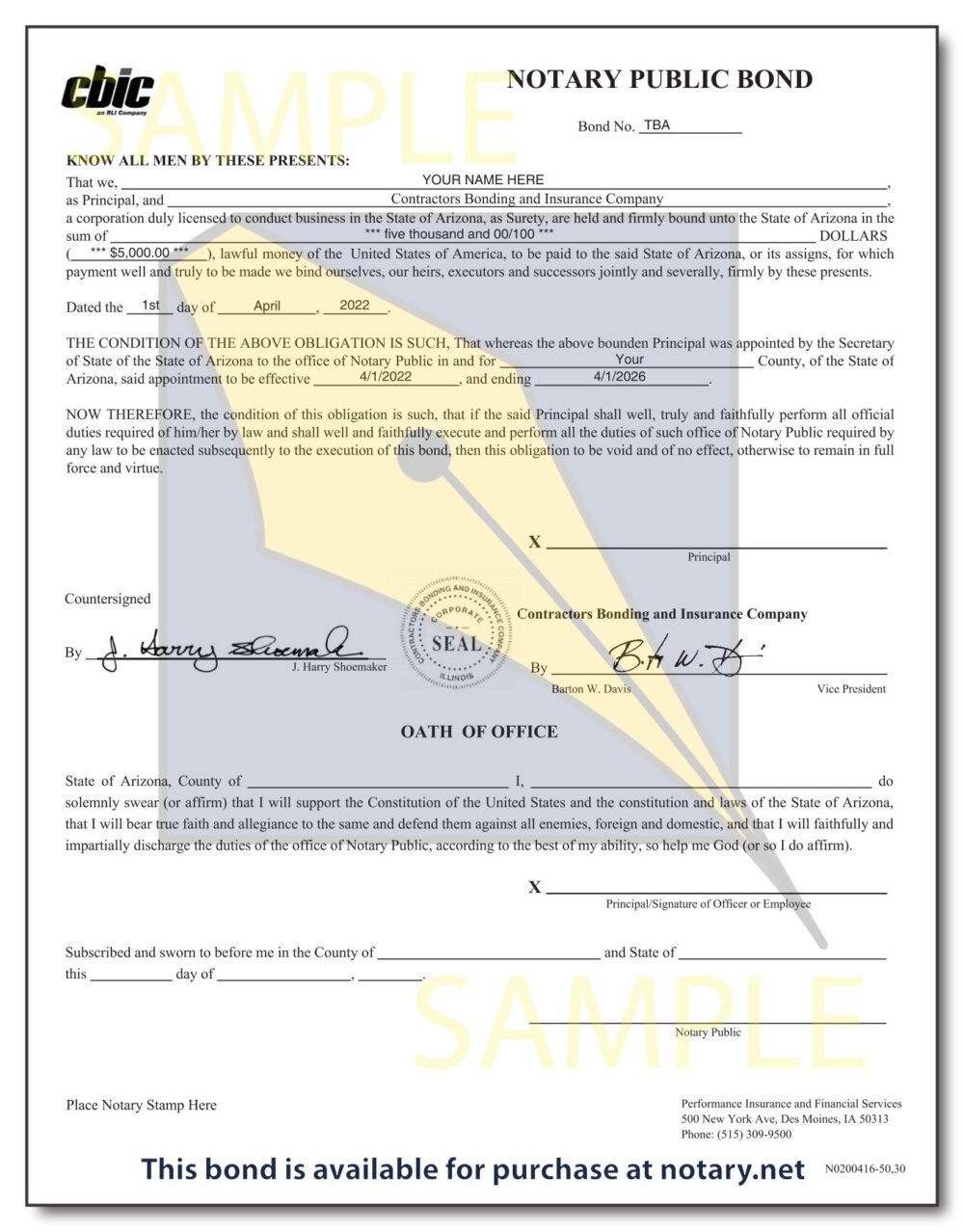 $5,000 Arizona Notary Surety Bond – CBIC
$25.00
4-year, $5,000 Arizona Notary Bond required to become a notary in Arizona. This $5,000 notary bond comes with complimentary $5,000 E&O coverage. If you would like additional coverage, select one of the options below.
Description
Additional information
Description
$5,000 Arizona Notary Bond – CBIC
This 4 year, $5,000 Arizona notary bond is required for all applying Arizona notaries. E&O can be purchased up to $35,000. This can be delivered electronically via email in most instances. 
Errors & Omissions insurance (E&O) is liability coverage built to protect your personal and professional assets. E&O insurance protects you in case you make a mistake, causing your client to suffer financial harm. E&O insurance has a no deductible. 
Without E&O insurance, the notary public remains personally liable to the full extent of any damages sustained by the client. Most likely, the notary will be required to reimburse the bonding company out of pocket.
State-required notary bonds do not protect the notary. This is a common misconception. 
Additional information
| | |
| --- | --- |
| Weight | N/A |
| Dimensions | N/A |
| Delivery Method | Email, Mail |
You may also like…
Alabama Notary Journals, Alaska Notary Journals, Arizona Notary Journals, Arkansas Notary Journals, California Notary Journals, Colorado Notary Journals, Connecticut Notary Journals, Delaware Notary Journals, Florida Notary Journals, Georgia Notary Journals, Hawaii Notary Journals, Idaho Notary Journals, Illinois Notary Journals, Indiana Notary Journals, Iowa Notary Journals, Kansas Notary Journals, Kentucky Notary Journals, Louisiana Notary Journals, Maine Notary Journals, Maryland Notary Journals, Massachusetts Notary Journals, Michigan Notary Journals, Minnesota Notary Journals, Mississippi Notary Journals, Missouri Notary Journals, Montana Notary Journals, Nebraska Notary Journals, Nevada Notary Journals, New Hampshire Notary Journals, New Jersey Notary Journals, New Mexico Notary Journals, New York Notary Journals, North Carolina Notary Journals, North Dakota Notary Journals, Ohio Notary Journals, Oklahoma Notary Journals, Oregon Notary Journals, Pennsylvania Notary Journals, Rhode Island Notary Journals, South Carolina Notary Journals, South Dakota Notary Journals, Tennessee Notary Journals, Texas Notary Journals, Utah Notary Journals, Vermont Notary Journals, Virginia Notary Journals, Washington Notary Journals, West Virginia Notary Journals, Wisconsin Notary Journals, Wyoming Notary Journals, Notary Journals, Alabama, Alaska, Arizona, Arkansas, California, Colorado, Connecticut, Delaware, Florida, Georgia, Hawaii, Idaho, Illinois, Indiana, Iowa, Kansas, Kentucky, LTBB, Maine, Maryland, Massachusetts, Michigan, Minnesota, Mississippi, Missouri, Montana, Nebraska, Nevada, New Hampshire, New Jersey, New Mexico, New York, North Carolina, North Dakota, Ohio, Oklahoma, Oregon, Pennsylvania, Rhode Island, South Carolina, South Dakota, Tennessee, Texas, Utah, Vermont, Virginia, Washington, West Virginia, Wisconsin, Wyoming, District of Columbia, Louisiana, Washington D.C.

Notary Records Journal

$

22.95 –

$

28.95