How to Create a Notary Profile and Marketing Kit
Brenda Stone
Last week, a new notary asked me how to develop a solid profile for websites like Notary Rotary.  I wasn't able to answer her personally that day and decided to dedicate this week's newsletter to two important pieces of a notary's marketing strategy: 
Notary Marketing Kit
Professional Notary Profile
A marketing kit will streamline your efforts; plus, having a notary profile makes it possible to set up accounts on marketing websites quickly.
Initially, I came up with my list of must-have requirements for a notary's marketing kit, then went a step further and asked a couple of friends who hire notaries for loan signings for their input. Like many hiring parties, they depend heavily on profiles to select notaries.
Please keep in mind as you read this, that most new notaries face the dilemma of not having signing experience, and that's why some of the information we suggest for a profile may be different that an experienced notary would have created in a profile.
The Core Documents of Your Notary Marketing Kit
Your marketing kit may grow and include other documents in the future, but for now, having the core documents listed below "on-call" and within reach will give you a head start.
Storing Your Core Documents
Once you have these items available, in order, and up to date, put them into a three-ring binder with your other important notary business documentation.  When you renew each of your core documents for the year, keep your notebook up to date.
It's also important to  store them in a folder on your computer and/or on a USB thumb drive in PDF format so that you can easily provide them to your hiring parties.  I recommend that you store them two ways on your computer: as individual documents that you can easily replace as the years go by  and because some documents will be requested one at a time; and. secondly, I would put them all into one PDF and store them in one file.  This is the order I would put them in.
A profile, unique, well-written, applicable, and professional.
Proof of certifications (i.e., certificates from notary and notary signing courses) *
Copy of notary commission*
A copy of your driver license with the number blacked out neatly.
Copy of your notary bond*
Proof of errors and omissions insurance*
Proof of clear background check*
W-9 matching mailing address and name to whom the check should be sent payable to.
Possibly, an impression of your notary seal.
Security and Software
Security – Many programs offer the ability to create PDFs but do not offer the feature of adding a password to protect files while they languish on your hard drive or other storage area. As far as I can tell, Nitro Pro would do that, but it comes with a price tag of $159. Adobe Acrobat would probably be a better strategy at $12.50 / mo.
PDFs – The free version of Adobe Reader is great for reading PDFs, but you'll probably need more features for putting together several documents into one document and performing other tasks. Currently, some of those features are available in an Acrobat Reader upgrade for $71.88.
You may review several PDF apps here.  I can't speak to their ease of use or reliability because I have been using Adobe Acrobat for managing PDFs almost exclusively since 2004.
You can also create PDFs in the apps mentioned below in the section labeled Office Apps.  Some of them offer password protection when for PDFs. 
Office Apps – if you plan to produce marketing materials, you will need to have apps that will do that for you. Google Docs and Microsoft OneDrive offer free accounts.  If you don't like working in the cloud, you can also download a MS Office look-alike, several which are listed here.
ALTA Standards for Third Party Signing Professionals (Asterisked Items)
Notably, the items in the above-stated list of core documents where there are asterisks must be collected and updated annually by hiring parties. These are documents required by the American Land Title Association (ALTA) who published in 2016 a list of standards that "third party signing professionals" must meet while handling loans.
This means that when an ALTA member hires you, it is expected that you understand that signing professionals conduct themselves with professionalism, they show mastery of signing agent knowledge, and the signing professional must have verifiable credentials.  And, your credentials are verified through the documents in the list so keep all of them current and linked as required to your online profiles.
Tip: Log into ALL Accounts during the First Week of Each Month
At the first of each month, log into your notary marketing accounts around the web.  Keep your profiles and credentials current.  
If you don't update your credentials when they expire, you will not be offered work by ALTA members which means practically all title companies in the U.S and their signing service partners.
You will be required to have a new background check and certification every year.  
Descriptions for Marketing Kit Items #2 – #9
If you understand the meanings of all of the documents in the list, you can skip reading this section.  The profile mentioned in #1 will be discussed in a section of its own below.
Items #2, #3, and #4 need no explanation.
For #5, your notary bond, you will need to contact the company that sold you your bond.  If they are not helpful, go to your commissioning office–for instance, the secretary of state.
Item #6 is a copy of the errors and omissions policy that your insurance agent sent you when you purchased it. Make sure it is your current policy.
For #7, you'll need a copy or link to your background check.  I have a copy of mine with redacted information that I don't want to be on one sheet of paper along with my name, birth date, etc.  I always share that one first. Also, I state on the top if it that I will provide a non-redacted copy if it is needed, plus access to the results via a link.
Item #8 is IRS Form W-9. I'm not going to go into a lot of income tax discussion here except to say that you need to make sure that the name on your W-9 is the name you want your check made out to.  Also, the address on your W-9 should be the address you want your check mailed to. I'll also remark that I use an employer Identification Number (EIN) rather than a Social Security number  on my W-9s.  Read up on the use of an EIN and applying for one here.
Lastly, item #9 is a copy of the notary's seal. If you decide to provide it, stamp it on a regular sheet of letter sized paper and write VOID across it.  I believe the hiring company just wants to know that you have a seal.
How to Make a Notary Profile
Your notary profile will be great for online profiles on platforms and websites. Once you finish and proofread it, it will complete your marketing kit. 
Your notary profile summarizes all of your credentials and other pertinent facts.   It offers a bit of narrative to hiring parties.  
Bonus:  I have had several requests for a sample profile.  You can view the PDF here: Notary Profile Sample PDF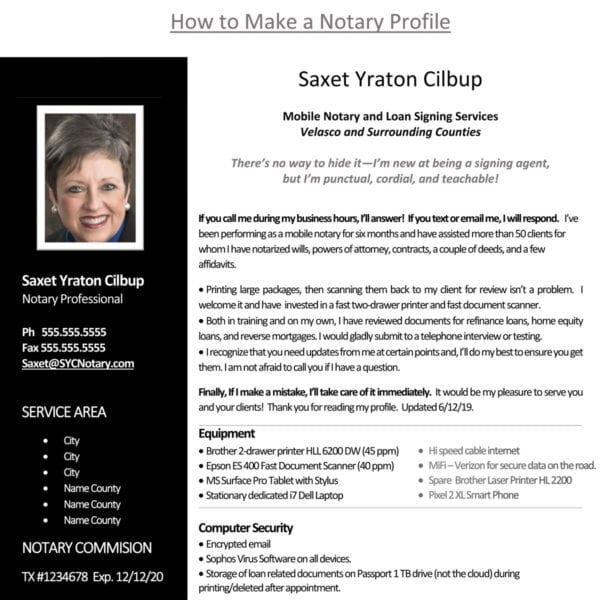 Before we get started, let's talk about the worst profile issue and how to avoid it — I can say it in one sentence: 
Do not copy and paste content from other profiles or websites. Ever.
A professional head shot will triple the value of your profile.
Did you know that schedulers tend to gravitate to profiles that depict a  person dressed professionally?  In fact, photos are so desirable to hiring parties that without one, schedulers will often arrange the list of notaries based on that. The lack of a professional head shot hurts you.
So, what exactly is a professional head shot?  It is an image of you alone wearing business or business casual clothes. It shows you from your waist up or shoulders up.  That's your #1 calling card. 
It is not advisable  to include others in your professional photo.
Showing too much skin isn't conducive to winning work from top notch hiring entities. 
In your photo, dress like you will when you work for the hiring party.  If you look like you mean business, you'll get business much quicker.
Several years ago I took my own professional head shot by covering a door with solid dark blue fabric for background, setting the timer on my best camera, and moving back into place. I smiled, folded my arms, looked at the camera, and it turned out great.
However, the best option would be to pay for a photo.  I am told that JC Penney's rates are reasonable and that they allow the customer to have all rights to their professional work meaning that you can post it online and reproduce it without infringing on the photographer's copyrights.
Your profile needs to be error free.
Writing, grammar, spelling, and punctuation are important. 
The business of developing a unique profile is crucial to your success.  If you do not write well, find a writer or friend to help you. If you go the professional route to locate a writer/editor, it will probably cost $25 – $35 per hour. 
Plan on paying for two to three hours of the writer's time.  
Be current – always!
Aside from not answering the phone, notaries aren't getting business because their profiles aren't current and complete. 
On the first of every month, check your online profiles. 
Update them.
As soon as something expires, upload the new and current document, for instance, your E&O policy, certifications, Form W-9. 
Update your online profiles monthly to show you are active!
Recipe for a Great Profile
Here are the things you need to include on your profile whether paper or online. The top three bullets need to stand out for the reader. Don't make them hunt around for a number to contact.
Name at top
Company name followed by LLC, D/B/A, etc.
Contact information
Professional head shot
Services offered
A "tag" line or motto.
Narrative – no more than 200 words. 150 is better.
Service area – list major cities and all counties
Hours you are available every day of the week
Equipment
Loan signing training, licensing, certifications including title producer licenses, certification classes, etc.
Computer security method
Criminal background check (expiration date)
Commission information (number, if it is public record, and expiration)
E&O policy information (amount and expiration)
Succinct and Memorable Narrative
Paragraphs are good, but put no more than two or three sentences in each.  Start your narrative with a paragraph, bullet point a few things, then end with a paragraph.
There's no need to go into all the discussion about your children, why you are a notary, etc. and repeat how amazing you are in several different ways.  It's good to toot your own horn, but use a French horn, not a bull horn!
Content ideas for your narrative
This is the part that most new notaries have trouble with.  Here are some ideas:
Intro – You could begin with something like "Thank you for reviewing my profile." Perhaps mention that you answer your phone, text messages, and emails. One profile cleverly lists a number of reasons why the hiring party might take a chance on you.
If true, say that you have locations for signing home equity loans if you are in Texas. These loans must be signed in a law office, title company, or lender's branch.
Talk about your best attribute first.  Sometimes that may be your equipment, your reviews on Google for general notary work, or endorsements by someone you have helped (like a Google review except not on Google). You can let them know you don't mind big packages and faxing back, perhaps, because you have great equipment.
If you are a full-time signing agent, state that. It is an advantage.
Mention the fact that you have been a field inspector or mystery shopper if you have that experience; it shows ability to work independently. This was the hook I used in my own first profile.  
Remarks on the knowledge you have developed through training courses. Types of loan documents you have studied in your training courses, e.g. refinance, reverse mortgage, etc.
Share skills that carru over from another career, e.g., paralegal or legal assistant.
Remarks about communicating and updating the hiring party and that you know it needs to be handled promptly.
State that you will take care of mistakes immediately.
Mention your website and that more details about your services are listed there.
Don't mention these.
Your fees, except statutory notary fees
Mileage charges
How soon you expect payment
Every zip code you will travel to (I actually do put all the zip codes on my profile, but the hiring parties who helped me with this said to put those on your website. and leave them off of the profile.)
Put it all together!
Put all the profile components on one page.  In the future, you can copy and paste a lot of this into your online profiles to speed up your marketing efforts.
After you proofread your profile, put it on top of your marketing kit core documents, can them into one file, and you are ready to start hitting 10 to 20 hiring parties per day!
Get articles like this in your email inbox every week or month.  Subscribe today!
Thank you!