Become a California Notary
New or Renewing California Notary
Save money by ordering our custom supply package.  Add-on just want you want and/or need.  This package starts at $56!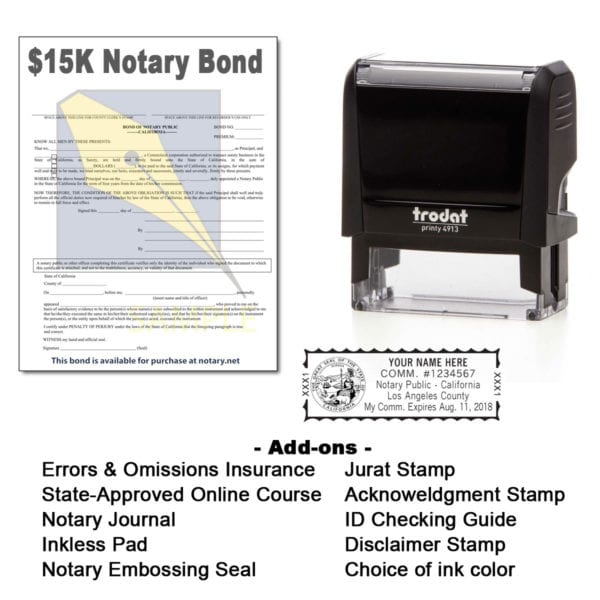 Includes:
Add-ons:
Notary Errors and Omissions Insurance
And More!

Video Instruction

We use the power of the internet to bring an instructor right into your computer. The instructor will teach and reinforce the materials to help you retain and connect with it. We even provide you detailed instructions on how to obtain your commission! The video can be accessed at any time, from any computer, tablet or phone with internet access. Plus, you can re-watch the videos as many times as you like.

Immediate Access - No Delays!


Because we value your time, upon receipt of your payment, you will IMMEDIATELY be granted with access to your notary course. You can start your California notary training in just a few minutes!

Social Interaction

Your course includes a social forum to ask questions and receive responses from your instructor and other students in a classroom-style discussion.

Instant Access to Your Proof of Completion Certificate

After completing the course, you will have access to a Proof of Completion Certificate. Display it proudly to show you take your notary commission seriously and that you are well-trained in the laws and procedures of California notaries public.

Save Money!

Save money by ordering your training, supplies and bond together in a custom notary supply package. Choose only the items you need or want. If you do not wish to save money you can order the Training Only.
How to Become a Notary Public in California
Step by Step Instructions
See the full eligibility requirements here: California Notary Eligibility
Mandatory Education

Take the mandatory 6-hour training seminar

State Exam

Take the state-administered test (same day of LIVE seminar)

Bring a $40 check payable to: Secretary of State
Bring a 2"x2" Color "Passport" Photograph ($10-$15 at seminar)
Bring a valid photo ID
Bring a California notary application (will be provided at seminar if you do not bring it)
The test must be taken at a proctored location.  The California notary exam is:

45 Questions
Multiple choice
60 minutes to complete
70% or higher is a passing grade
WE GUARANTEE YOU WILL PASS!

Taking the Online Course?  Register for a California Notary State Exam:

Call CPS at (916) 263-3520 or
You must register AT LEAST two weeks in advance to guarantee a seat.  You may show up to an exam location as "stand-by."  We recommend you show up at least an hour early.



Test Scores
You will receive a letter in the mail saying 'You have passed'

After the seminar, you can go online to: https://cmas.cpshr.us/CMAS/Login.aspx to view your test score. To obtain your password, call CPS at (916) 263-3520. Test results should be posted 8-10 business days after the exam.



Live Scan
Submit live scan fingerprints to the Department of Justice and FBI for your thorough background check.

Cannot be a convicted felon
Live scan application is included with your mailed test results.

Processing Period

Wait for your commission paperwork to arrive (4-12 weeks from exam date).  This will arrive by postal mail and will say "Register to Vote" on the large 9"x12" envelope.  It is imperative that you open this IMMEDIATELY.  For renewing notaries, the commission paperwork for the new commission will be mailed out no sooner than around 1 month prior to current commission expiration. You can check commission processing times and your status at CAnotary.info.



Notary Supplies
Order your official notary stamp/embosser and bond

Send your ORIGINAL Certificate of Authorization to Manufacture Notary Public Seals to:

Notary.net
PO Box 41400
Des Moines, IA 50311

or

Notary.net
500 New York Avenue
Des Moines, IA 50313


We send California notary supplies either same day or next business day after we receive your Certificate of Authorization.  Please allow 3-4 business days from our receipt of your certificate for you to receive your notary supplies.



Notary Bond and Filing with County Clerk
File your 4-year/$15,000 bond and oath of office with the county clerk

You can order your bond and E&O insurance at the following site: California Notary Bonds and Insurance
You must take the following items to file at the county clerk:

Original Bond

Must be signed by a licensed CA insurance agent.
Must include surety seal.
Must include the principal's (the notary's) signature.

Two Oath of Office Forms

These are included in your commission packet you received from the state.

Original Commission Certificate (Gold Foil Seal)
Photo ID
Payment for filing and recording fees (varies by county)

Congratulations, you are a California Notary Public!