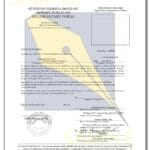 Florida RON Notary Bond
$65.00
Additional bond required for notaries registered to perform Remote Online Notarizations. Minimum $25,000 E&O coverage required with bond.
A notary surety bond protects the public from mistakes you make while performing your notarial duties during the term of your commission that result in damage to the public.
If you would like coverage that protects you from the financial damage that could result from making a notarial mistake, you should consider a Notary Errors & Omissions policy. Subject to policy limits and provisions, an E&O policy will protect you, the notary, from financial harm.
Description
Additional information
Description
FOR OFFICE USE ONLY
STATE OF FLORIDA BOND OF
NOTARY PUBLIC OR
ONLINE NOTARY PUBLIC
Approved by Department of State:
Secretary of State
Notary Commissions
Form: DOC IN-7, R. 1N-7.001, F.A.C, effective 01/2020
STATE OF FLORIDA
Bond No:
KNOW ALL MEN BY THESE PRESENTS, That we; as Principal, and (Name of Registrant)
Western Surety Company 800 331-6053
(Imprint Name of Surety Company) (Telephone Number)
as Surety Company, give bond payable to any individual who may be harmed as a result of a breach of duty by said
applicant acting in his/her official capacity as a Notary Public OR Online Notary Public in the amount of Twenty-
Five Thousand Dollars ($25,000) as assurance for the due discharge of the duties of his/her office of Notary Public
OR Online Notary Public and we do bind ourselves, and each of our heirs, executors and administrators, jointly and
severally. Liability under this bond is limited to $7500 for acts performed in the capacity of a Notary Public pursuant to section 117.01(7)(a), Florida Statutes.
Applicant was, on the date of issuance of Notary Public commission, bonded in and for the State of Florida
as a Notary Public of Florida, to hold office for the term of four years in accordance with the Constitution and
Laws of this State.
Now, therefore, if said applicant shall faithfully discharge the duties of the office of a Notary Public or Online Notary Public, as prescribed by law, then this obligation shall be void.
By:
(Signature of Registrant)
Signed and sealed this day of
Western Surety Company
(Name of Surety Company)
PO Box 5077, Sioux Falls, SD 57117-5077
(Address of Surety Company)
(Affix Surety Seal)
Notary Rotary, Inc.
(Name of Bonding Agency or Company)
PO Box 41400, Des Moines, IA 50311-0507
(Address of Bonding Agency or Company)
By:
(Signature of Florida Licensed Agent)
E099261
(Florida Licensed Agent Number)
John Harry Shoemaker
(Printed name of Florida Licensed Agent)
Section 817.234(1)(b), F.S. "Any person who knowingly and with intent to injure, defraud, or deceive any insurer files a statement of claim or an application containing any false, incomplete, or misleading information is guilty of a felony in the third degree."
This bond shall be for Twenty-Five Thousand Dollars ($25,000).
After execution by surety company, the bond must be submitted to the Department of State for approval
and filing before issuance of the registration of online notary public.
Additional information
| | |
| --- | --- |
| Weight | N/A |
| Dimensions | N/A |
| Delivery Method | Email, Ship |