Colorado Notary Stamp Requirements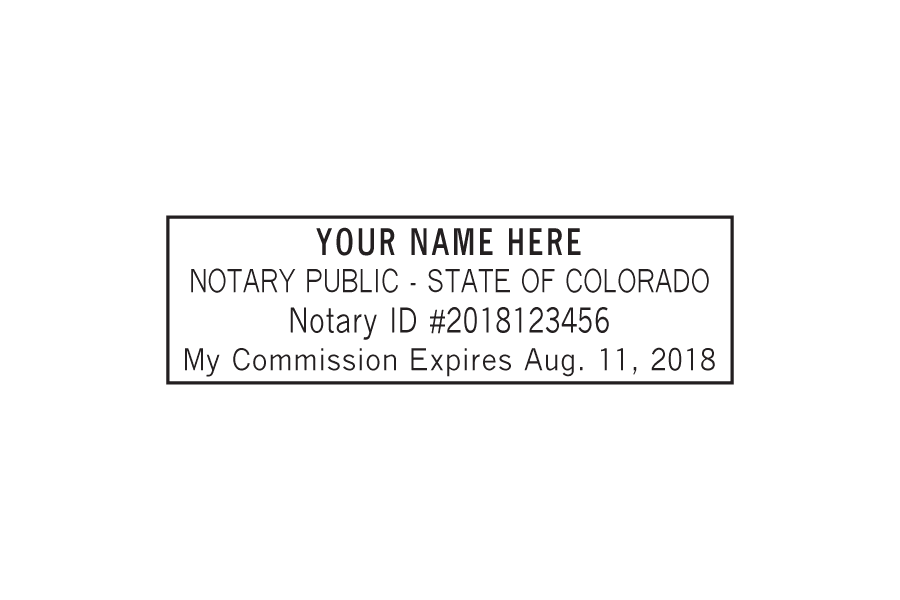 Once you have received your notary public commission certificate, you can use your commission certificate to obtain one or more notary seal stamps. The Secretary of State does not provide notary public stamps. You can order your Colorado notary stamp here: Colorado Notary Stamp.
In order to have your notary stamp made, you must provide a copy of your notary commission certificate to the stamp or seal vendor. Vendors are not allowed to create a Colorado notary seal until they have a copy of the certificate. It is your responsibility to make sure that all of the stamp requirements listed below are met, and that the information on your stamp is accurate and up to date. If any of the information on the seal changes, it is your responsibility to have the stamp updated.
It is extremely important for you to guard your notary stamp and prevents others from using your stamp. As a general rule, the stamp should be kept in a locked, secure area, under the direct and exclusive control of the notary.
A Colorado notary stamp must contain the following information:
Your name as it appears exactly on your certificate,

The words "NOTARY PUBLIC",

The words "STATE OF COLORADO",

Your notary ID number, and

Your commission expiration date.
No other information can be placed within the border or outline.
A Colorado notary stamp must be a rectangular ink stamp with a rectangular outline or border.
The law does not specify a particular size or ink color.
The border may be plain or decorative. Embossers cannot be used.