Become a How to Become an Arkansas Notary Public Notary
Follow these step-by-step instructions to apply to become an Arkansas Notary Public.
Step 1 - Education
Arkansas does not specifically require any formal notary training, however, you will swear that you have "reviewed the law concerning notaries public and understand the duties of a notary public." We offer an online notary video course teaching Arkansas-specific notary law and practices to ensure that you know what you are doing, stay out of legal trouble and fulfill the state's knowledge requirement.
Free Preview
Enroll Now
Step 2 - Purchase/Acquire a Notary Bond
A notary bond is somewhat like insurance for the public.  If you cause someone financial harm, then they can sue you and win a judgment.  If you do not have the means to pay the judgment, they can make claim to your bond.  While this is a rare occurrence, it is still a possibility if you do not know what you are doing or you knowingly break the law.  This bond is not insurance for you.  If you want personal protection, the best option is to know and understand the law and then E&O insurance would cover any honest mistakes.  We offer the required
Arkansas Notary Public Bond
on our website.  You can order it now. Order your
Arkansas Notary Public Bond
Order
Notary E&O Insurance
Step 3 - Notary Application
Complete the online Arkansas notary public application.  If you are not already in the state system, you must register as a new user.  Follow the steps below to complete the application.  Once you have submitted everything online, print your application, have it notarized and mail it with a copy of your notary bond as well as a $20 check or money order payable to: Arkansas Secretary of State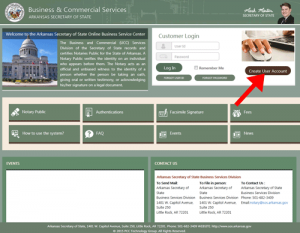 Page 1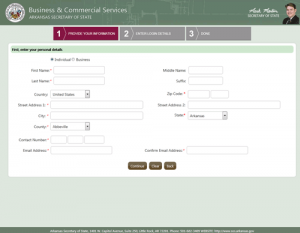 Page 2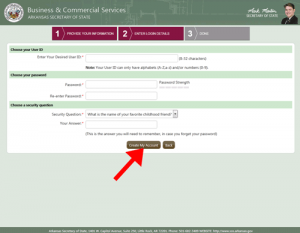 Page 3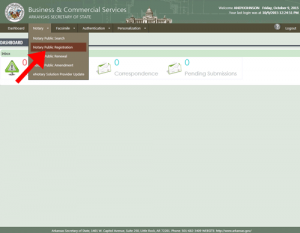 Page 4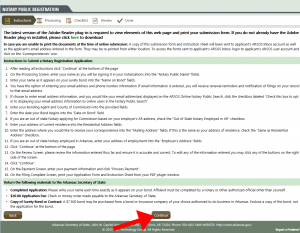 Page 5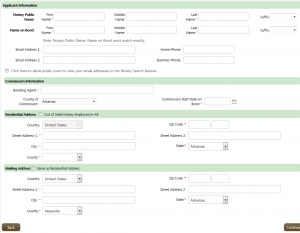 Page 6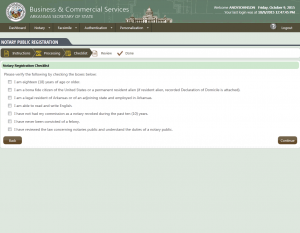 Page 7
How to Become a Notary Public in How to Become an Arkansas Notary Public
Step by Step Instructions