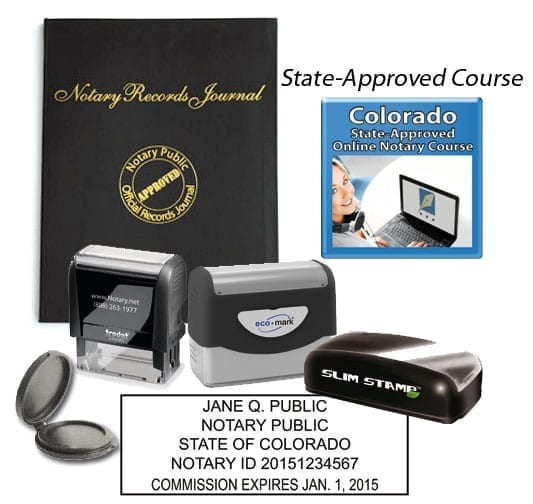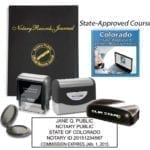 Colorado Notary Supplies Package
From: $35.00
The Colorado Notary Supplies Package contains everything you need to get started as a Colorado notary: a Colorado notary stamp, a notary journal, and an inkless thumbprint pad.
Add-ons include the Colorado notary training course, acknowledgment and jurat stamps, and Colorado errors and omissions (E&O) insurance. 
When you receive your notary commission, you must send us a copy of your commission at sales@notary.net. We will ship your custom stamp and supplies the same or next business day.
Description
Additional information
Reviews (0)
Description
The Colorado Notary Supplies Package contains everything you need to get started as a Colorado notary.  The only additional required fee is the application fee, when you submit the application to the SOS.  The package includes:
Notary Records Journal
Colorado Notary Stamp

Eco-Mark pre-inked stamps work and feel as great as they look. Just one impression and you will appreciate the ergonomic shape and heavy duty construction.  Eco-Mark stamps are created with the environment in mind. You should get around 12,000 impressions before having to re-ink. EcoMark 3.0 impression area: 7/8″ x 2-1/2″
Trodat Printy 4.0 stamps are climate-neutral as standard.  CO2 is saved during manufacture.  The residual, unavoidable CO2  footprint is compensated by investment in Gold Standard climate protection projects recommended by the WWF®.  Two special grip zones allow a cartridge to be exchanged without touching the ink reservoir—for guaranteed clean fingers.  The Original Printy 4.0 is one of the world's smallest and lightest self-inking stamps. Soft-touch elements guarantee a pleasant, secure stamp grip.  The Original Printy 4.0's crystal-clear positioning window also enables accurately placed imprints. The transparent bottom edges allow for precise alignment. Trodat 4913 impression area: 7/8″ x 2-3/8″
PSI stamps are made from recycled plastic (50%).  They use low emissions manufacturing practices.  They last twice as long as a traditional self-inker.  They feature laser print quality impression.  They are re-inkable indefinitely.  PSI Slim 2264 impression area: 7/8″ x 1-15/16″
Add-ons:
Colorado Notary State-Approved Online Course
Colorado Errors and Omissions Insurance
ID Checking Guide
Acknowledgment and Jurat Stamps
Additional information
| | |
| --- | --- |
| Weight | 20 oz |
| Dimensions | 8.5 × 11 × 2.5 in |
Colorado Notary Stamp
| | |
| --- | --- |
| Stamp Type | Brother 2260, Printy Model 4913, PSI 2264, PSI 2264 Slim |
| Stamp Color | Eco Black, Apple Green, Black, Blue, Eco Gray, Flame Red, Fuchsia, Green, Light Pink, Lilac, Mango, Red, Sky Blue, Violet, White |
Notary Records Journal
| | |
| --- | --- |
| Version | Hard Cover, Soft Cover |
Colorado Notary State-Approved Online Course
| | |
| --- | --- |
| Course | For Me, For Someone Else |
Colorado Notary E&O Insurance
| | |
| --- | --- |
| E&O Term | 1-Year, 2-Years, 3-Years, 4-Years |
| E&O Coverage | $10,000, $15,000, $25,000, $35,000, $50,000, $100,000 |
| Bond Company | |
You may also like…
Alabama Notary Training Courses & Education, Alaska Notary Training & Education, Arizona Notary Online Courses, Arkansas Notary Training Courses, California Notary Training Courses, Colorado Notary Online Courses, Connecticut Notary Online Courses, Delaware Notary Online Courses, Georgia Notary Online Training Courses, Hawaii Notary Online Training Courses, Idaho Notary Online Training Courses, Illinois Notary Online Training Courses, Indiana Notary Online Education Courses, Iowa Notary Online Training Courses, Kansas Notary Online Courses, Kentucky Notary Online Courses, Maine Notary Online Education Courses, Maryland Notary Online Education Courses, Massachusetts Notary Online Training Courses, Michigan Notary Online Training Courses, Minnesota Notary Online Courses, Mississippi Notary Online Education Courses, Missouri Notary Online Courses, Nebraska Notary Online Training Courses, New Hampshire Notary Online Courses, New Jersey Notary Online Education Courses, New York Notary Online Courses, North Dakota Notary Online Courses, Ohio Notary Online Training Courses, Oklahoma Notary Online Education Courses, Oregon Notary Online Education Courses, Pennsylvania Notary Training Courses, Rhode Island Notary Online Courses, South Carolina Notary Online Courses, South Dakota Notary Online Courses, Tennessee Notary Online Courses, Texas Notary Training Courses, Utah Notary Online Education Courses, Vermont Notary Online Training Courses, Virginia Notary Online Education Courses, Washington Notary Training Courses, West Virginia Notary Online Courses, Wisconsin Notary Online Courses, Wyoming Notary Online Courses, Notary Signing Agent Course, Alabama, Alaska, Arizona, Arkansas, California, Colorado, Connecticut, Delaware, Florida, Georgia, Hawaii, Idaho, Illinois, Indiana, Iowa, Kansas, Kentucky, Maine, Maryland, Massachusetts, Michigan, Minnesota, Mississippi, Missouri, Montana, Nebraska, Nevada, New Hampshire, New Jersey, New Mexico, New York, North Carolina, North Dakota, Ohio, Oklahoma, Oregon, Pennsylvania, Rhode Island, South Carolina, South Dakota, Tennessee, Texas, Utah, Vermont, Virginia, Washington, West Virginia, Wisconsin, Wyoming, District of Columbia, Washington D.C.

Notary Signing Agent Certification Training

$

45.00