Notary Bonds and E&O Insurance: FAQs
A notary bond is a financial guarantee, purchased by a notary from a surety company. The notary bond guarantees that the bond company will pay on the notary's behalf for damages incurred as a result of the notary making a mistake. The bond company will then demand reimbursement from the notary for the amount paid to the injured party. Most states require notaries to have a notary bond before they can perform notarial acts.
The following states require a notary surety bond:
Alabama
Alaska
Arizona
Arkansas
California
Washington D.C.
Florida
Hawaii
Idaho
Illinois
Indiana
Kansas
Kentucky
Louisiana
Michigan
Mississippi
Missouri
Montana
Nebraska
Nevada
New Mexico
North Dakota
Oklahoma
Pennsylvania
South Dakota
Tennessee
Texas
Utah
Washington
Wisconsin
Wyoming
What is E&O Insurance?
Errors & Omissions insurance (E&O) is liability coverage built to protect your personal and professional assets. E&O insurance protects you in case you make a mistake, causing your client to suffer financial harm. E&O insurance has a no deductible. 
Without E&O insurance, the notary public remains personally liable to the full extent of any damages sustained by the client. Most likely, the notary will be required to reimburse the bonding company out of pocket.
State-required notary bonds do not protect the notary. This is a common misconception. 
Is E&O insurance required by law? No, it's not, but why would you risk losing your home? Protecting yourself with E&O insurance guarantees YOU financial protection and peace of mind.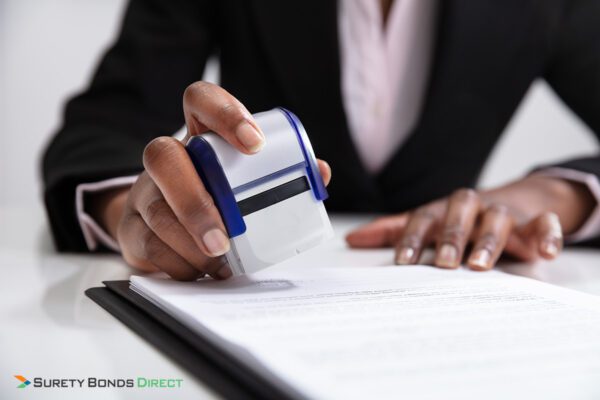 How Do Surety Bonds Work?
Surety
First, you must purchase a bond to become a notary. This surety bond is purchased to protect the consumer; that is, your clients. If you make a mistake which financially harms one of your clients, they can file a claim against your bond. If their claim is valid, they can be compensated up to the bond amount.  
Principal
This is you! When you purchase your bond, you agree to enter into a partnership with the surety. Unfortunately, this partnership means that you are financially liable to the surety. 
Obligee
This is your state. Your state requires that the principal purchase a bond to obtain a notary commission or license. In addition to you, your states enters into an agreement with the surety. This agreement means that if a state citizen is harmed, the surety will compensate the injured party. 
E&O Insurance
E&O insurance protects YOU. If you have E&O insurance, your insurance will cover the compensation paid by the surety, up to your policy amount. Of course, we HIGHLY RECOMMEND E&O insurance.
How much does a notary bond cost? What bond amount does my state require?
The price varies depending on the bond company and the bond amount your state requires. On Notary.net, a Travelers California bond for $15,000 costs $38, while a Tennessee bond for $10,000 costs $30. 
Select your state from the States tab for state-specific info.